THE DOG PARK WILL RE-OPEN ON MONDAY, OCTOBER 18, 2021 AT 8:00AM.
Please join us for a ribbon-cutting ceremony at the dog park on Saturday, October 23, 2021 at 9:00am.
Project Timeline:
The dog park will be closed starting July 19th through Summer (estimated 2-3 months). During the closure, a temporary fenced dog park (separate sections for large and small dogs) will be available adjacent to the Equestrian Park parking lot (link to project site plan below). You may also visit our other off-leash areas.
Click here for the project site plan.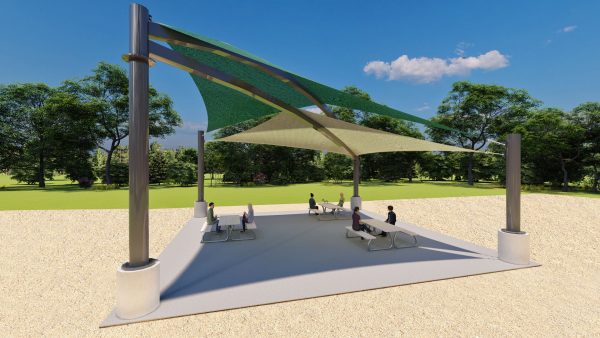 Please review the plans below for more detailed information.  If you have any questions or comments, feel free to contact Andrew Mooney at 805-495-6471 or amooney@crpd.org. 
Click links below for project site plans:
Dog Park Parking Lot and Restroom Plan
This project includes:
Large shade structures (one at each large and small dog park areas)
Permanent restroom
Paved parking lot
Landscaping and irrigation improvements
Concrete walkways
Fencing
Approximately 1,300 linear feet for sewer line connection to Waverly Heights Drive
Notice of Borchard Skatepark Renovation
Borchard Skatepark Renovation Concept Diagram 11x17
The Conejo Recreation and Park District is starting a multi-year process to evaluate and formulate a recommendation regarding the future renovation of the existing skatepark at Borchard Community Park.
CRPD staff has met several times and developed a rough conceptual plan (CLICK ABOVE) of a potential renovation.
CRPD is currently forming a focus group with the community. After the focus group is formed and has met, additional public outreach seeking ideas, input, and feedback, will be conducted. If you're interested in being informed regarding the project, please contact Weston Montgomery at wmontgomery@crpd.org or 805-381–2791 at the Borchard Community Center.
If you have any questions, feel free to contact Tom Hare at 805-381-1230 or thare@crpd.org.