The Alex Fiore Thousand Oaks Teen Center
is the place to be if you're a teen in 7th-12th grades!
We offer dozens of programs covering a variety of interests, including sports, music, dance, arts, computers, and more. Teens can participate in recreational classes, educational workshops, leagues, seasonal camps, and special events.
Feel free to stop by and visit our beautiful facility, meet the staff, and check out our program offerings. We are here to serve.
For further information, to register for classes, and view photos from special events, be sure to visit thousandoaksteencenter.com.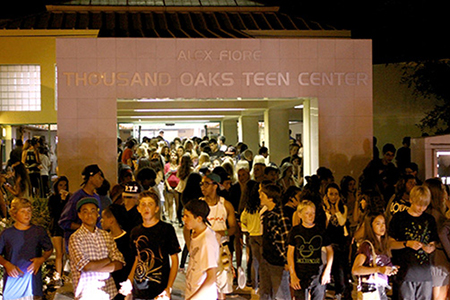 Facility Features
Our awesome facility features a gymnasium, soundproof music room, computer lab, 1700 sq. ft. game room complete with three pool tables, two ping pong tables, air hockey, foosball, assorted video games, vending machines and a 50" high-def plasma TV. We also have classrooms, offices, and a catering kitchen.
Drop-In Recreation
The Teen Center offers FREE drop-in recreation to any local teen during our daily operational hours. Drop-in activities include the use of our game room, our climate-controlled gym (open gym times vary daily - call ahead to get the day's schedule), as well as our computer lab which has high-speed internet and is open and staffed during designated hours. We encourage local teens to stop by and enjoy our outstanding facility.
History
The Alex Fiore Thousand Oaks Teen Center is funded by the City of Thousand Oaks and operated by the CRPD. The center first opened its doors to the teen public back in October 1989. Since then, hundreds of thousands of teens have enjoyed the many recreational opportunities available. Residents can be proud that the Teen Center is nationally recognized and has served as a model for other communities.
Youth Outreach Program
The Youth Outreach Program is a multipurpose community social service program jointly sponsored by the Conejo Recreation and Park District and the Conejo Valley Unified School District. By program design, outreach workers seek out and address the needs of non-involved and hard-to-reach youths. Duties include truancy prevention programs, community referral service, recreational programming, and crisis intervention.
Contact Outreach Staff at the Teen Center: 805-494-5156, or email by clicking their names below.