Reign of Terror Haunted House
Visit if you Dare! The Most Terrifying Haunted House in Southern California!
Looking for the scare of your life? The 23rd Annual Reign of Terror Haunted House opens in September at the Janss Marketplace! Get ready for 135 bone-chilling rooms and more than 28,000 sq. ft. of blood-curdling adventures!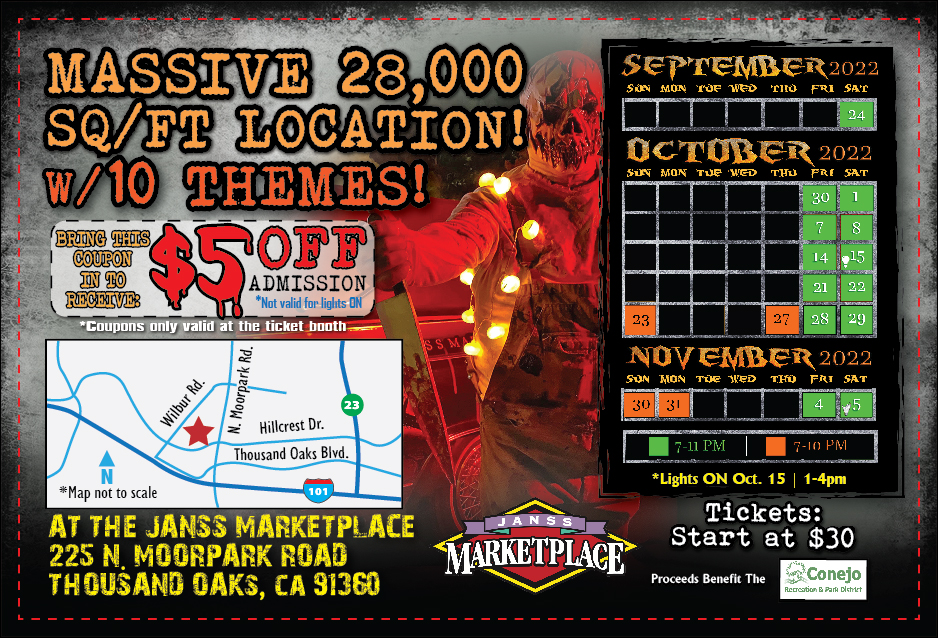 It's more than a good scare that makes the Reign of Terror a success. Janss Marketplace donates space for the haunted house and all proceeds from entrance fees. The staff at the Reign of Terror ranges from haunted room set designer and founder Bruce Stanton to people of all ages who help as ghosts, goblins, vampires, and less frightening staff roles hosts and ticket takers. In 2019, $52,000 was donated from the October Reign of Terror Haunted House to the Conejo Recreation and Park District; all told, more than $295,000 has been donated to CRPD over a 12-year relationship between Janss Marketplace and Reign of Terror. The annual donations benefit the District's Thousand Oaks Teen Center, Young Artists Ensemble programs, and the Conejo Theatre for Everyone, which gives special needs youth the opportunity to perform.
Remember, though, this is not an amateur haunted house - it is a professional-level installation taking up the floor above Gold's Gym at the Janss Marketplace. It is not recommended for young kids. For children, (and those adults who can't quite handle it) there are "lights-on" tours available. No actors, no scares, no animations, or darkness! This is a great opportunity to have some fun with the kids & for haunt enthusiasts to check out the details of our scenes.
Unearth all the frightful details including ticket prices and haunt dates at www.rothauntedhouse.com or www.facebook.com/ROThauntedhouse.