1350 E Avenida De Las Flores, Thousand Oaks, CA 91360
The 3.5-acre dog park opened in June 2001. This special facility is designed for the benefit and enjoyment of our community's dogs and their human families.  The park has two separate sections, one for small dogs (30 lbs and under) and the other for large dogs (more than 30 lbs). Drinking fountains have attached dog water fountains. 
OPEN DAILY 7:00am to 10:00pm
The lights in the dog park start shutting off at 9:00pm and are completely off by 10:00pm.  Parking lot lights stay on until 10:30pm.
The park is closed during these times:
Every Thursday from 7:00am - 9:00am
All day on the 3rd Thursday of every month
During inclement weather due to wet/muddy conditions and for turf protection.  Weather-related closure updates can be found at FIELD CONDITIONS.
You may also call the dog park hotline at 805-381-1299 for information about weather-related closings.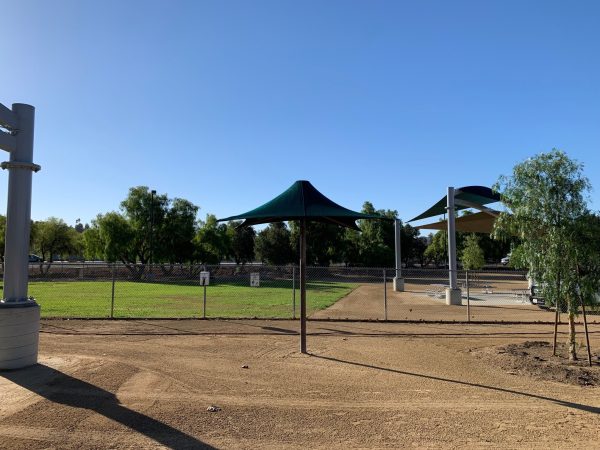 | TYPE | QUANTITY | COMMENTS |
| --- | --- | --- |
| ADA Parking Stalls | 2 | |
| Drinking Fountains | 3 | Attached dog water fountains |
| Large Dog Area | 1 | |
| Mutt Mutt Dispensers | 10 | |
| Parking Stalls | 84 | |
| Picnic Tables | 8 | |
| Shade Structures | 4 | |
| Small Dog Area | 1 | |
There are good reasons for the rules, based on knowledge and understanding of canine behavior. Please abide by them while you're at the Conejo Creek Dog Park. If in doubt, conduct yourself with maturity and consideration for others.
To submit questions, comments, or to report concerns including off-leash, abandoned, sick or injured animals at any of the parks, contact Park Superintendent, Matt Kouba, at 805-495-6471, ext. 1112 or email parksupt@crpd.org.
There are currently three off-leash areas in the Conejo Valley, in addition to the Conejo Creek Dog Park. They can be found at Estella Park, Kimber Park, and Walnut Grove Park. These off-leash areas do not have grass, are located in the District's turf reduction target areas, and will become compacted natural earth surfacing over time.