Thousand Oaks Community Center
The Thousand Oaks Community Center is located on 35.8 acres and includes a full-size gym, racquetball courts, soccer and softball fields, tennis courts, picnic structure, disc golf course, children's playground & Ant Hill, and reservable meeting rooms. The community center provides surrounding neighborhoods with a wide range of recreational programs serving tots through seniors and organizes several large scale special events throughout the year.
We are proud to offer many classes and programs including preschool, tennis, karate, gymnastics, racquetball, visual arts, performing arts, basketball, dog training, technology, youth sports, and more! To view our current session offerings, please visit PROGRAM REGISTRATION and search for keyword: Thousand Oaks Community Center.
If you have an interest in offering a class or program, please contact us. Everyone who teaches with the Conejo Recreation & Park District must go through a background check and be fingerprinted and cleared. They also must adhere to the high standards we have established to conduct quality programs to Conejo Valley residents.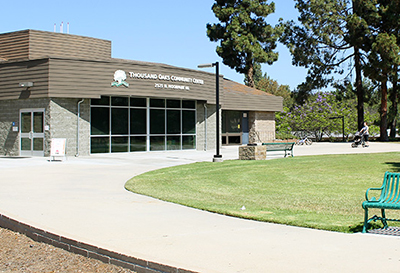 Recreation Supervisor
America Nava
Recreation Coordinator
Tim Smith
Email
toc@crpd.org
Phone
805-381-2793
Hours

Monday thru Friday 7:00am-10:00pm
Saturday & Sunday 8:00am-5:00pm