Located within El Parque de la Paz, the Crowley House was built in 1910 on what was then the Newbury Ranch for newlyweds Frank and Mae Casey Crowley. History recalls that the house earned the nickname "Mother of Thousand Oaks" because, in the early 1920s, it served as a real estate office for the first housing development in the Conejo Valley. Carloads of prospective buyers were brought from downtown Los Angeles, shown lots amongst huge oak trees, and given dinner in the Crowley House dining room before making the return trip.* Later, the facility served as a convalescent home, the home of Louis and Kathleen Goebel, and the site of the Conejo Valley Neighborhood for Learning enterprise. The spacious, 2-story white frame, 5-bedroom house still has its hardwood floors, mahogany beams, and volcanic rock fireplace. It was acquired by CRPD in 1986 and designated as Ventura County Historical Landmark 109 in December 1986.  The building was initially used as a CRPD Sports office and was most recently the home to the Therapeutic's independent life skills program.  Recreation programming is no longer being held in the building.
Due to the age of the structure, park maintenance staff noticed non-typical sagging and uneven areas of the ceiling and floor throughout. As the technical review surpassed the ability of staff to make a finding, a structural engineer was brought in to assess.  It is the engineer's recommendation that the existing structure be kept unoccupied until the noted deficiencies are fully investigated, repaired, and mitigated. CRPD staff and the engineer are currently in coordination with the City's Building and Safety Department to further review and address the structure.
Out of concern for public safety, staff has erected a perimeter fence to protect access to the building and its exterior porch from general public use. Public safety signs have been posted on the fence at key locations.  The fencing will be installed with a permanent material so that when structural issues are resolved, the fence can serve for future programming opportunities at the property.
Should you have questions about the Crowley House, please call 805-495-6471 or email parks@crpd.org.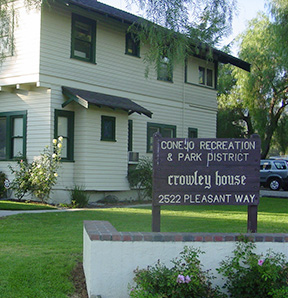 *Excerpted from Ventura County Historical Landmarks & Points of Interest, Ventura County Cultural Heritage Board Staff, Third Edition, May 2016