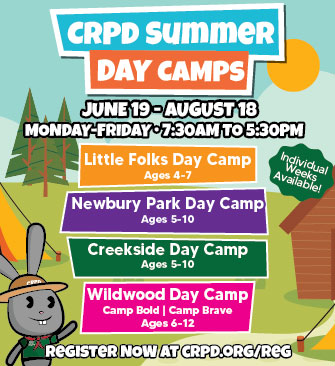 Looking for a way to keep your child engaged, active, and entertained during the summer? Look no further than our Summer Day Camps! Designed to encourage friendships and fun, our camps offer a range of activities for children of all ages. From sports and games to arts and crafts, there's something for everyone.
We offer five different types of camps to accommodate a range of ages and interests. Our experienced staff is dedicated to creating a safe, supportive, and fun environment where kids can learn new skills, make friends, and have a blast.
Spaces are limited, so don't delay - register your child today for one or more weeks from June through August. We can't wait to see your child at our Summer Day Camps!
Register today for Summer Day Camps via our ONLINE REGISTRATION SYSTEM.
Check out the daily calendar for each of our camps below!
Wildwood Day Camps - Camp Bold | Camp Brave
To download our Parent Packets, please click here.
For more information, call the Conejo Center/Outdoor Unit staff at 805-495-2163.