McCrea Ranch Visitor Center
The beautifully rustic McCrea Ranch, located at the bottom of the Norwegian Grade, was owned by movie stars from Hollywood's Golden Age. Legendary film actor and Western movie hero Joel McCrea, with his wife of 57 years, movie star Frances Dee, raised their three sons here, Jody, David, and Peter, and lived a simple lifestyle as part of the community, farming the land, and raising cattle.
A personal friendship between Joel and Tex Ward, General Manager Emeritus for CRPD, helped lay the foundation for the McCrea's to donate their ranch and family home in 1995 to the Conejo Recreation and Park District, effective 2004. The ranch home and outbuildings are listed on the National Register of Historic Places.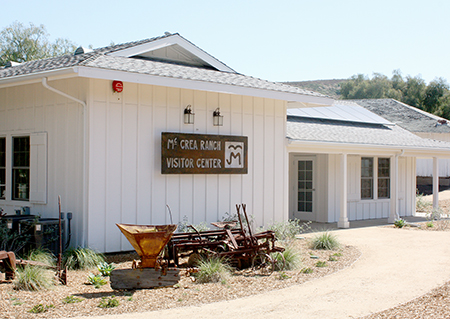 The McCrea Ranch Visitor Center was completed in 2011. The Center provides a variety of interpretive, educational, and cultural programs for the community while preserving the unique history of this property for generations to come. Public access to the McCrea Ranch Visitor Center is through scheduled programs with the Conejo Recreation and Park District. As the McCrea Ranch Foundation expands with a trained docent and volunteer base, hours of operation will be established allowing the Visitor Center to be open to the general public. In the coming years, as funds are available, the Joel & Frances McCrea Ranch Foundation and Conejo Recreation and Park District will work to provide even greater public access to other parts of the McCrea Ranch.
The McCrea Ranch Visitor Center is available to rent for small functions, including weddings, special events, and presentations. Amenities include an indoor meeting area and outdoor patio, plus limited kitchen facilities. For information, please call the District's Outdoor Unit staff at 805-495-2163.