Partnering with businesses, service clubs, and organizations. Together creating stronger communities.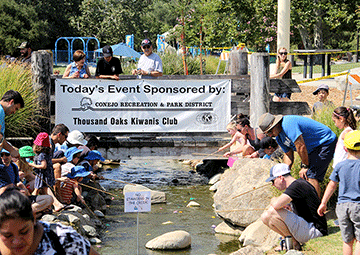 Community support is crucial to the development of quality recreational events in the Conejo Valley. By becoming a sponsor, you help provide needed services and quality of life experiences to the community while your business or organization stretches its marketing dollar and good will. We invite you to join CRPD in building stronger individuals and families through a partnership.
The Benefits Are Endless:
Achieve name recognition by becoming part of events.
Develop networking opportunities through contact with potential future customers.
Advertise within a niche market.
Make a positive contribution to the community.
Enhance your public image and generate awareness.
Associate your brand with our well-received events.
Align yourself with CRPD, an agency that promotes healthy and active lifestyles through great recreational programs and events.
Call our office at 805-495-6471 or email us at recreation@crpd.org.
Summer Concerts in the Park
Summer Concerts in the Park are made possible due to our generous sponsors. To help keep this longstanding tradition alive, businesses, families, and individuals are all encouraged to support this 5-concert series.  Held on Memorial Day, the 4th of July, Labor Day, and a Sunday in July & August, attendance for these popular events ranges from 2,000 to 5,000 people - families, friends, and visitors - young and old.
For further Summer Concerts in the Park sponsorship information, contact Tim Duerr, Recreation Services Manager
at 805-495-6471 or email tduerr@crpd.org.