Conejo Senior Volunteer Program
The Conejo Senior Volunteer Program (CSVP) uses the life experiences of adults age 55+ to benefit Conejo Valley nonprofit and healthcare organizations. These volunteers plant gardens, tutor children, program computers, assist seniors to live independently and serve in many other vital roles. If you are 55 or above, you can join the 1,200 area men and women already helping make a difference in our community. Put your life skills and talents to work today! Stop by the CSVP office, located in the Goebel Adult Community Center, for an interview. We'll match your skills, interests, and abilities with a local nonprofit agency which needs you. For more information, please contact Julie Spivak at csvp@crpd.org or 805-381-2742.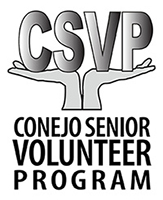 General Volunteer Opportunities
Volunteers are a vital part of CRPD. We need youth, teen and adult volunteers for classes, special events, and in our community centers. Many teenagers and tweens volunteer with us to accumulate quality volunteer hours for school and future job opportunities. Many adults volunteer with a service group or to stay connected to a particular program or the community in general. All volunteers are trained and work with a variety of staff to assist in making the many programs we offer the highest quality they can be. If you would like to volunteer, please contact the Community Center or Special Unit you are interested in assisting.