Fourth of July Activities
Something for everyone!
Breakfast... Sports... Swimming... Patriotic Music and... FIREWORKS!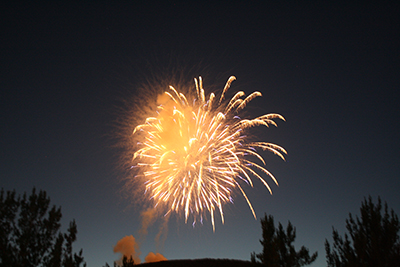 Due to COVID-19 concerns, these events have been cancelled.
Borchard Community Center
190 Reino Road, Newbury Park
Pancake Breakfast 8:00 - 11:00am  CANCELLED
All you can eat, only $5 per person. Info: 805-381-2791
Sports Home Run Derby 8:30 - 10:30am  CANCELLED
Take the challenge- men's/women's and age divisions, $5/person. Info: 805-495-4674
Senior Home Run Derby 9:00 -11:00am CANCELLED
Test your skills for only $5/person - multiple divisions. Info: 805-381-2744
Community Pools at CLU & NPHS
Family Open Swim - FREE 12noon - 4:00pm  CANCELLED
Splash away your afternoon! Info: 805-241-0894
Conejo Community Park
1175 Hendrix Avenue, Thousand Oaks
Concert in the Park - FREE 5:00 - 7:00pm  CANCELLED
The Angel City Dixieland Band performs all the great songs from the city people call "The Big Easy." Plus, patriotic-themed games & crafts for the kids.
Fireworks Hill
(above CRPD's Hillcrest Center/Admin Offices)
Fireworks Spectacular - FREE 9:00pm CANCELLED
Best viewing is from the Janss Marketplace parking lot, Thousand Oaks.
Sponsored by the City of Thousand Oaks and Conejo Recreation & Park District
with music sponsored by