Site Reference Map (PDF)       Watch the grand opening video!
Check out this overview of Sapwi Trails Community Park!
Neighborhood Park – 2100 Scenicpark Street
Arboles Terrace – 2550 Avenida de los Arboles
Westlake Lower Terrace & Westlake Upper Terrace – 2225 North Westlake Blvd.
Description
Land for the sprawling oak-wooded Sapwi Trails Community Park (formerly known as Lang Ranch Community Park) originally identified as the Oakbrook Community Park in the master plan for Lang Ranch, was dedicated to the Conejo Recreation and Park District in 1993.
Initial plans to build a full-service park with a community center, baseball diamonds, and other amenities were abandoned in January 2012 after a geotechnical study revealed stability safety issues for the hillside property, which were determined to be economically infeasible to resolve.
After a series of brainstorming sessions to gather input from the public, a new Concept Plan was developed. The new plan includes an outdoor classroom, a disc golf course, seating areas, barbecue areas, benches, three bike riding areas, a motorless sailplane area, and multiple trails for biking, hiking, and horseback riding.  The project was awarded to Access Pacific Construction by the Conejo Recreation and Park District Board of Directors in September 2017.  The park was completed in September 2018 and a ribbon-cutting ceremony took place on September 22, 2018.
Park Hours:  7:00am – 10:00pm
There is no irrigated turf within the park.
For additional information, call 805-495-6471 or email parks@crpd.org. 
---
User Groups
Over the last several years, the District has entered into formal agreements with the user groups to support the development and operations of Sapwi Trails Community Park.
Click on the links below to find out more about each of the user groups.
Facebook – Conejo Disc Golf Club
Facebook – Sapwi Trails Community Park Disc Golf Course
---
Partnerships
On April 11, 2017, the City of Thousand Oaks City Council approved the District's $2.5 million grant agreement that will provide significant funding towards the construction of the project.
On June 26, 2017, the Santa Monica Mountains Conservancy approved the District's $1.76 million Proposition 1 competitive grant application for construction of the project as it relates to Lang Creek development and access within the full construction scope.
Thank you to these important partners!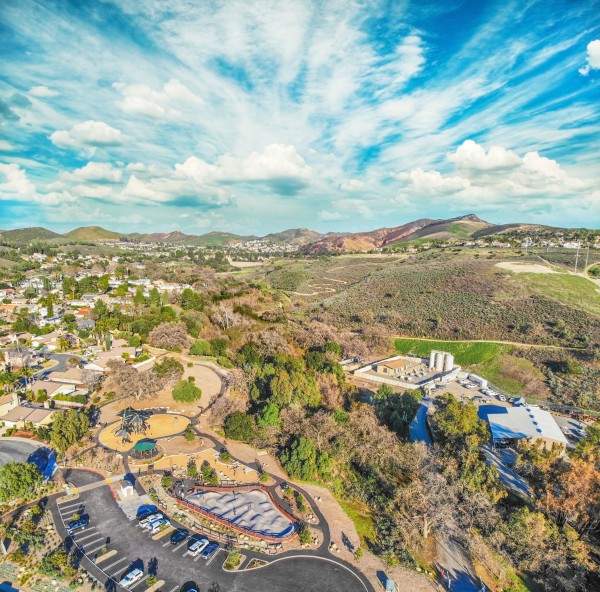 8 ADA Parking (Neighborhood Park-2; Arboles Terrace-2; Westlake Lower Terrace-2; Westlake Upper Terrace-2)
1 Barbeque (Neighborhood Park)
1 Beginners Bike Pump Track (Neighborhood Park)
26 Benches (Neighborhood Park-14; Arboles Terrace-3; Westlake Lower Terrace-3; Westlake Upper Terrace-1; Bike Park-5)
1 Bike Park
3 Bike Repair Station (Neighborhood Park-1; Arboles Terrace-1; Bike Park-1)
7 Bus Parking Stalls (Westlake Upper Terrace)
1 Disc Golf Course
4 Drinking Fountains (Neighborhood Park-1; Arboles Terrace-1; Bike Park-2)
Multi-Use Trails
1 Non-Motorized Air Craft Launch Pad (Westlake Upper Terrace)
184 Parking Stalls (Neighborhood Park-27; Arboles Terrace-21; Westlake Lower Terrace-60; Westlake Upper Terrace-76)
4 Pedestrian Bridges
32 Picnic Tables (Neighborhood Park-11; Arboles Terrace-7; Westlake Lower Terrace-10; Bike Park-4)
1 Playground (Neighborhood Park)
4 Restrooms (Neighborhood Park-1; Arboles Terrace-1; Westlake Lower Terrace-1; Westlake Upper Terrace-1)
2 Shade Structures (Neighborhood Park-1; Bike Park-1)