Paige Lane & Combes Avenue, Thousand Oaks, CA  91360
Concept Plan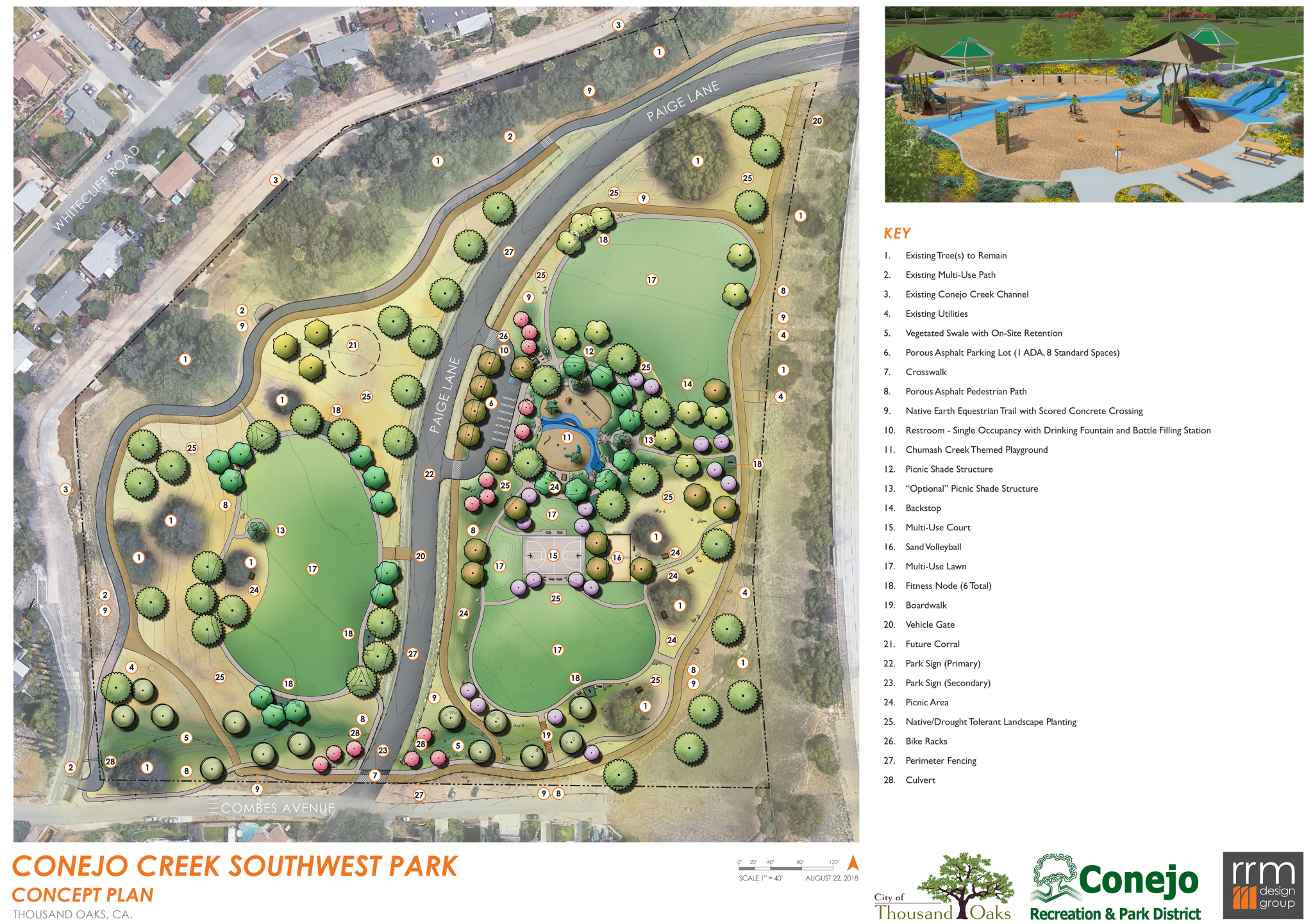 Download Concept Plan (PDF 3.7 MB)
Description
Adjacent to Conejo Creek's natural beauty, this 14-acre property was acquired in 1972 and it is bisected by Paige Lane as it travels beneath the 23 Freeway. Currently, the site is being developed into a neighborhood park for passive use activities. The new park will feature a Chumash-themed playground, parking lot, solar-powered restroom, shaded picnic area, fitness stations, limited natural turf, drought-tolerant landscaping, water-efficient irrigation system, and walking/equestrian paths. The site will provide parkland for the adjacent neighborhood, as well as the growing population along Thousand Oaks Boulevard.
Construction Updates
July 2022 Construction Updates
May/June 2022 Construction Updates
March/April 2022 Construction Updates
January/February 2022 Construction Progress
November/December 2021 Construction Progress
Groundbreaking Ceremony – 10/23/21
Pre-Construction
Park Information
The park is open daily from 7:00am – 10:00pm.  For further information, call 805-495-6471 or email parks@crpd.org.
Park Development
Click on the links below to view the Final Initial Study/Mitigated Negative Declaration.
Conejo Creek Southwest Park Final MND
Appendix A – Grading Plan
Appendix B – CalEEMod Outputs
Appendix C – Biological Assessment & Jurisdictional Delineation
Appendix D – Protected Tree Report
Appendix E – Phase I Cultural Assessment
Appendix F – Geotechnical Evaluation
Appendix G – AB 52 Correspondence
Partnerships
On September 28, 2021, the City of Thousand Oaks approved a grant agreement with Conejo Recreation and Park District for $1.5M to provide partial funding for the construction of Conejo Creek Southwest Park.