901 Paige Lane, Thousand Oaks, CA  91360
Concept Plan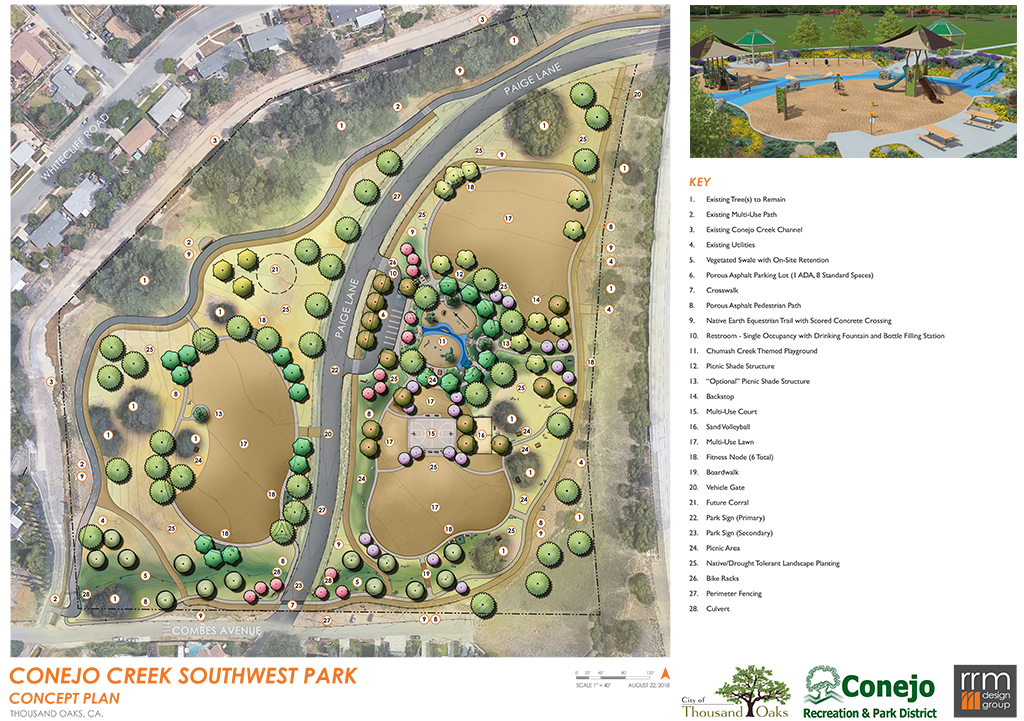 Description
Adjacent to Conejo Creek's natural beauty, this 14-acre property was acquired in 1972 and is bisected by Paige Lane as it travels beneath the 23 Freeway. The park features a Chumash-themed playground, parking lot, solar-powered restroom, shaded picnic areas, fitness stations, drought-tolerant landscaping, water-efficient irrigation system, and walking/equestrian paths. The site provides parkland for the adjacent neighborhood, as well as the growing population along Thousand Oaks Boulevard.
Due to the current drought and the Conejo Recreation and Park District's continued efforts toward water conservation, the planned three acres of turf areas will not be installed at this time. Turf areas will be prepared with mulch cover and underground irrigation infrastructure for possible future implementation of turf at a later date, depending on forecasted drought conditions. To find out more about the District's water conservation efforts, please visit www.crpd.org/water.
Construction Updates
October 2022 and Ribbon Cutting
October 2022 Construction Updates
August/September 2022 Construction Updates
July 2022 Construction Updates
May/June 2022 Construction Updates
March/April 2022 Construction Updates
January/February 2022 Construction Progress
November/December 2021 Construction Progress
Groundbreaking Ceremony – 10/23/21
Pre-Construction
Park Information
The park is open daily from 7:00am – 10:00pm.  For further information, call 805-495-6471 or email parks@crpd.org.
Park Development
Click on the links below to view the Final Initial Study/Mitigated Negative Declaration.
Conejo Creek Southwest Park Final MND
Appendix A – Grading Plan
Appendix B – CalEEMod Outputs
Appendix C – Biological Assessment & Jurisdictional Delineation
Appendix D – Protected Tree Report
Appendix E – Phase I Cultural Assessment
Appendix F – Geotechnical Evaluation
Appendix G – AB 52 Correspondence
Partnerships
On September 28, 2021, the City of Thousand Oaks approved a grant agreement with Conejo Recreation and Park District for $1.5M to provide partial funding for the construction of Conejo Creek Southwest Park.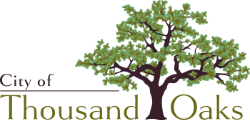 1 Basketball Court
4 BBQ Grills (First come/first served)
16 Benches
5 Fitness Stations
1 Multi-Use Trail (0.6 mile distance – both sides of the park)
8 Parking Stalls
3 Picnic Structures (First come/first served)
5 Picnic Tables (First come/first served)
1 Playground
1 Recreational Walking Path (0.7 mil distance – both sides of the park)
1 Restroom (Unisex – lighted from sunrise to 10pm)
1 Sand Volleyball Court