1379 East Janss Road, Thousand Oaks, CA 91362
Description
The property for Conejo Creek North Park was originally acquired in 1972. The Master Plan was approved in 1989. This 27-acre natural creekside site was completed in 1992. One of the District's most popular parks, with two ponds connected by a recirculating meandering stream, it is home to the Main Library, Teen Center, and Goebel Adult Center. The park has reservable picnic shelters of varying sizes with a total park capacity of several thousand visitors during major community events and festivals. The Healing Garden was dedicated on November 7, 2019, and serves as a community space for contemplation, meditation, and prayer, in memory of the November 7, 2018 Borderline tragedy that took 12 lives and injured 248. 
The Healing Garden
Gratitude Circle
Play Conejo
Park Information
November-February 7:00am – 6:00pm
March & October 7:00am – 7:00pm
April-September 7:00am – 8:00pm
For general park questions, call 805-495-6471 or email parks@crpd.org.
Reservations
To reserve a picnic area, please contact the Reservations Office at 805-495-6471 or at reservations@crpd.org.  For a complete listing of reservable picnic areas, including amenities, capacities, and reservation forms, go to Picnic Area Reservations.
Amenities
Map of Amenities (PDF)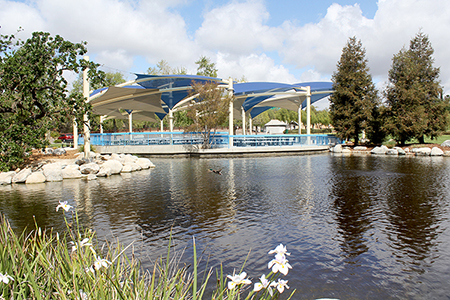 11 ADA Parking Stalls
11 BBQ Grills (First come/first served)
Fitness Trail (.67 mi)
1 Healing Garden
216 Parking Stalls
3 Picnic Structures (Willowbend – seats 75 (1 group-type BBQ) Creekside – seats 200 (2 group-type BBQs) Lakeside – seats 400 (3 group-type BBQs))
26 Picnic Tables
2 Playground
1 Recreational Walking Path (0.67 mile distance)
2 Restrooms
1 The Gratitude Circle
1 The Healing Garden
1 Veterans Memorial (Fountain memorial)
2 Volleyball Courts (First come/first served)