1300 Avenida de Las Flores, Thousand Oaks, CA 91360
Description
The six acres of Waverly Park was acquired in 1973 and developed in 1974.  This pine-studded park is adjacent to the Conejo Valley Adult School and half of the baseball field and a portion of the park is on Conejo Valley Unified School District property.  Except by permit, alcohol possession is prohibited in this park.
In 2016, improvements to the park were completed, including a new and relocated play area, new fitness stations, benches, picnic tables, BBQ's, and an expanded walking path.
---
Park Information
Waverly Park is open daily from 7:00am – 10:00pm. For information, call 805-495-6471 or email parks@crpd.org.
Field Conditions or call the Field Conditions Line at 805-381-1236.
---
Reservations
---
Amenities
Map of Amenities (PDF)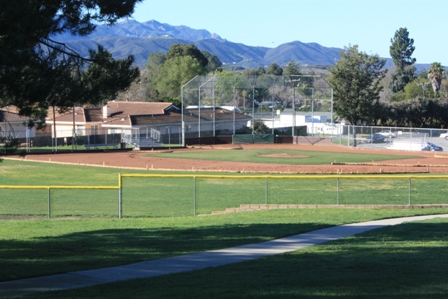 1 Backstops (First come/first served)
1 Baseball Fields (Reservable; no lights)
4 BBQ Grills (First come/first served)
100 Bleacher Seating
2 Bleachers
1 Drinking Fountains
3 Fitness Stations (Each station has two pieces of equipment)
9 Picnic Tables (First come/first served)
1 Playground
1 Restrooms