2525 N Moorpark Road, Thousand Oaks, CA 91360
Description
Property for the 35.8-acre Thousand Oaks Community Park was acquired in 1970.  A 22-acre portion was developed in 1974 including a community center, gym, soccer and softball fields, sports courts, picnic structure, and reservable meeting rooms.  This is the only park with racquetball courts and it is also home to Rabbit Flats Disc Golf Course. You may still hear longtime residents refer to this park as Acorn Acres after the name of a proposed housing development.  Covered parking solar panels were installed in 2013.  In 2022, the playground and ant hill were renovated with picnic and insect-themed equipment and a new reservable picnic structure was installed with a drinking fountain and bottle filler. ADA improvements were included in the design of the play features as well as access throughout the playground. Adjacent to Thousand Oaks High School, the park offers something for everyone.
Park Information
The park is open daily from 7:00am – 10:00pm.  For general park information, call 805-495-6471 or email parks@crpd.org.
Use of the outdoor volleyball, basketball, and tennis courts is on a first-come, first-served basis. Use of the Rabbit Flats Disc Golf Course is also on a first-come, first-served basis. 
Field Conditions or call the Field Conditions Line at 805-381-1236.
Community Center Information
Monday-Friday 7:00am – 10:00pm
Saturday-Sunday 8:00am – 5:00pm
For more information, including programs, indoor courts, open gym schedules, or to reserve a meeting room, contact the Thousand Oaks Community Center.
Reservations
Amenities
Map of Amenities (PDF)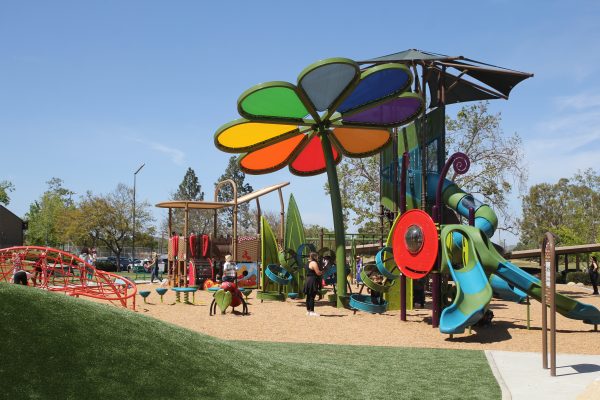 5 ADA Parking Stalls
1 Ant Hill (Grass hill to slide on w/skid boards)
2 Badminton
2 BBQ Grills
120 Bleacher Seating
4 Bleachers
1 Disc Golf Course (Behind softball fields)
3 Fitness Stations
1 Gymnasium (1 basketball; 2 volleyball; 2 badminton)
1 Kitchens
3 Meeting Rooms (lounge-20; crafts room-70; platform-50)
1 Outdoor Basketball Court
230 Parking Stalls
1 Picnic Structures
18 Picnic Tables
1 Playground
2 Racquetball Courts (Inside community center)
1 Recreational Walking Path (0.4 mile distance)
4 Restrooms (3 inside center; 1 on field)
2 Soccer Fields (lighted sunset to 10pm)
2 Softball Fields (lighted sunset to 10pm)
4 Tennis Courts (lighted sunset to 10pm)
1 Volleyball Courts