950 North Ventu Park Road, Newbury Park, CA 91320
Description
Rancho Conejo Playfield, located just north of Hillcrest Drive on Ventu Park Road, is 13 acres of turf, softball fields, tennis courts, basketball court, play areas, and picnic areas.  The developer of Rancho Conejo, Shapell Industries, built and dedicated the park to the District in 1997.  The parking area was expanded in 2012, providing an additional 45 parking spaces. In 2018, six pickleball courts were completed. In 2020, the playground was upgraded with ranch-themed play structures. Except by permit, alcohol possession is prohibited in this park.
Park Information
The park is open daily from 7:00am to 10:00pm.  For general park questions, call (805) 495-6471 or email parks@crpd.org.
Field Conditions or call the Field Conditions Line at 805-381-1236.
Reservations
Amenities
Map of Amenities (PDF)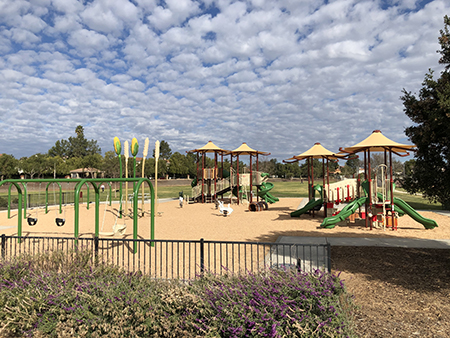 2 ADA Parking Stalls
108 Bleacher Seating
4 Bleachers
1 Outdoor Basketball Courts (Lighted sunset to 10pm)
60 Parking Stalls
6 Pickleball Courts (lighted from sunset to 10pm)
2 Picnic Tables (First come/first served)
1 Playground
1 Restrooms
2 Softball Fields (Reservalbe; no lights)
2 Tennis Courts (lighted from sunset to 10pm)