3720 Old Conejo Road, Newbury Park, CA 91320
Description
Pepper Tree Playfield, at the corner of Reino and Old Conejo Roads, is surrounded by… pepper trees.  This 21.7-acre site was acquired in 1977.  Softball and soccer fields were developed in 1983.  Additional improvements, such as the picnic structure, have been added by dedicated community volunteers and service clubs.  In 2021, an upgrade of the play area included replacing existing play structures with a nature-themed playground, new slides, paw-print finds, and an assortment of climbers.
Park Information
The park is open daily from 7:00am – 10:00pm.  For further information, call 805-495-6471 or email parks@crpd.org.
Field Conditions or call the Field Conditions Line at 805-381-1236.
Reservations
Amenities
Map of Amenities (PDF)
Additional Photos (PDF)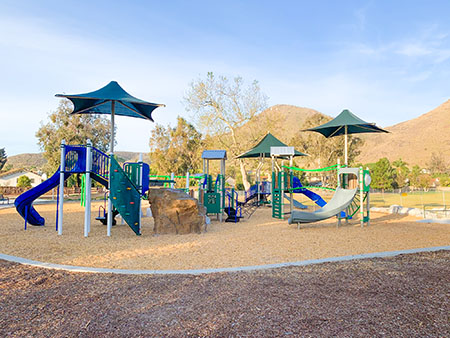 3 ADA Parking Stalls
120 Bleacher Seating
4 Bleachers
1 Outdoor Basketball Court
113 Parking Stalls
1 Picnic Structures (First come/first served)
4 Picnic Tables (First come/first served)
1 Playground
1 Recreational Walking Path (0.83 mile distance)
4 Restrooms
4 Soccer Fields (Reservable; no lights)
2 Softball Fields (Reservable; lighted from sunset to 10pm)