2787 Erbes Road, Thousand Oaks, CA 91362
Description
This 14-acre park was first acquired in 1970.  Five acres at the corner of Erbes Road and Pederson Road were improved as parkland in 1975.  In 2002, the District expanded into the undeveloped portion of the site, constructing a multi-use hard court comprised of a basketball court and the first and only netball court in Thousand Oaks.  Improvements for the remaining nine acres were completed in May 2013 and include picnic areas, horseshoe pits, restroom, full park walking/jogging path, active and passive turf areas, and parking.  In January 2019, a playground renovation with additional play structures for ages 2-5 was completed.
Park Information
The park is open daily from 7:00am – 10:00pm.  For general park questions, call 805-495-6471 or email parks@crpd.org.
Field Conditions or call the Field Conditions Line at 805-381-1236.
Reservations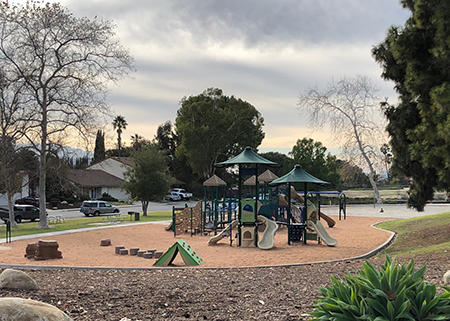 2 ADA Parking Stalls
1 Backstops (First come/first served)
10 BBQ Grills (First come/first served)
4 Horseshoe Pits (First come/first served)
1 Netball Court (First come/first served)
1 Outdoor Basketball Courts (First come/first served)
23 Parking Stalls
2 Picnic Structures
14 Picnic Tables (First come/first served)
1 Playground
1 Recreational Walking Path (0.53 mile distance)
1 Restroom (Unisex)
1 Soccer Fields (Reservable)
1 Volleyball Courts (First come/first served)