952 Rockfield Street, Thousand Oaks, CA 91362
Description
Located at the corner of Rockfield and Bowfield Streets, the 12-acre North Ranch Playfield was first acquired in 1987. Two years later, a zoning change from residential to public land allowed for the park's development in 1991. The lighted playfield park sits high next to a natural creek, offering spectacular views of the nearby mountains. In 2016, the playground was renovated with a forest/treehouse-themed play equipment, including exterior seating and ADA-accessible walkways.
Park Information
The park is open daily from 7:00am – 9:00pm. For further information, call 805-495-6471 or email parks@crpd.org.
Field Conditions or call the Field Conditions Line at 805-381-1236.
Reservations
Amenities
Map of Amenities (PDF)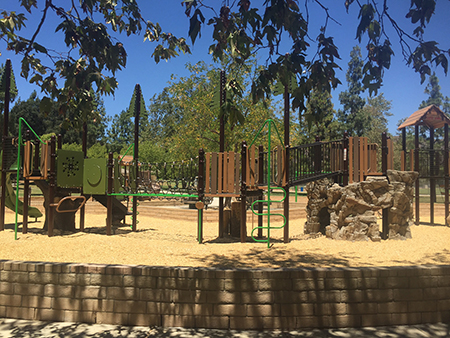 3 ADA Parking Stalls
2 BBQ Grills (First come/first served)
120 Bleacher Seating
4 Bleachers
1 Outdoor Basketball Courts (Lighted sunset to 10pm)
60 Parking Stalls
5 Picnic Tables (First come/first served)
1 Playground
1 Recreational Walking Path (0.47 mile distance)
3 Restrooms (Unisex)
2 Soccer Fields (Lighted from sunset to 10pm)
2 Softball Fields (Lighted from sunset to 10pm)
2 Tennis Courts (Lighted from sunset to 10pm)
1 Volleyball Courts (First come/first served)