3287 Lang Ranch Parkway, Thousand Oaks, CA 91362
Description
Seven of the ten acres of the property for Lang Ranch Neighborhood Park were developed and dedicated to the Conejo Recreation and Park District in 1993.  Adjacent to the natural environment of Lang Creek, the large neighborhood park provides direct access to open space trails throughout the Conejo Valley.  This is a non-reservable site.
Improvements completed May 2014 include a .4 mile permeable asphalt walking path around the park, a restroom, and a conversion of non-essential turf to mulch and trees.
---
Park Information
The park is open daily from 7:00am – 10:00pm.  For further information, call 805-495-6471 or email parks@crpd.org.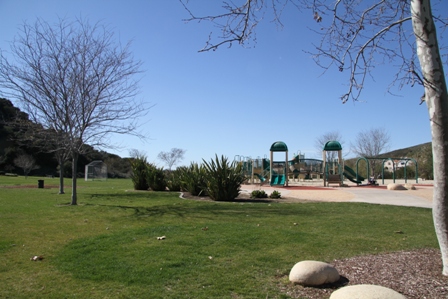 1 Backstops (First come/first served)
9 BBQ Grills (First come/first served)
1 Drinking Fountain
Fitness Trail (.4 mi)
1 Open Turf Area
1 Outdoor Basketball Courts (First come/first served)
1 Picnic Structures (First come/first served)
11 Picnic Tables (First come/first served)
1 Playground
1 Restroom (Unisex)