1550 Avenida de los Arboles, Thousand Oaks, CA 91360
Description
Property for the "Freeway Playfields", later named "Fiore Playfields", was assembled in 1972 thanks to the cooperative efforts of the City of Thousand Oaks, Caltrans, Southern California Edison and the Conejo Recreation and Park District.  Developed into four little league baseball fields in 1974, the property sits on 10.5 acres and it is home to the Conejo Valley Little League. In 2018, a new playground with a baseball theme was installed, complementing the main park activity use.  This was the first playground project to benefit from a donation from Play Conejo!
Park Information
The park is open daily from 7:00am – 10:00pm.  For further information, call 805-495-6471 or email parks@crpd.org.
Field Conditions or call the Field Conditions Line at 805-381-1236.
Reservations
Amenities
Map of Amenities (PDF)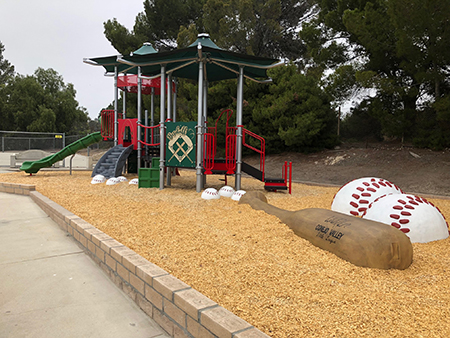 4 ADA Parking Stalls
4 Baseball Fields (Reservable; no lights)
120 Bleacher Seating
8 Bleachers
1 Outdoor Basketball Courts (First come/first served)
100 Parking Stalls
1 Picnic Structure
7 Picnic Tables
1 Playground
1 Restrooms