4801 Borchard Road, Newbury Park, CA 91320
Description
Located at Borchard Road and Rancho Dos Vientos Drive, land and park improvements (including the 14,000 square foot community center) for the 28-acre Dos Vientos Community Park were dedicated to the CRPD in 2002 by the developers of the master-planned Dos Vientos Ranch community. The community park has reservable picnic areas, rooms, fields, and sport courts for day and evening use. Covered parking solar panels were installed in 2013. In 2017, Master Plan improvements were completed, including interior renovations to the lobby, entry trellis at the main entrance, storage building addition, large and small picnic pavilions, and general landscaping.
Park Information
Open daily from 7:00am – 10:00pm.  For further information, call 805-495-6471 or email parks@crpd.org. 
Use of the outdoor volleyball, basketball. and tennis courts is on a first-come, first-served basis.
Field Conditions or call the Field Conditions Line at 805-381-1236.
Community Center Information
Monday-Friday 9:00am – 10:00pm
Saturday-Sunday 12noon – 6:00pm
For more information, including programs, indoor courts, open gym schedule, or to reserve a meeting room, contact the Dos Vientos Community Center.
Reservations
Amenities
Map of Amenities (PDF)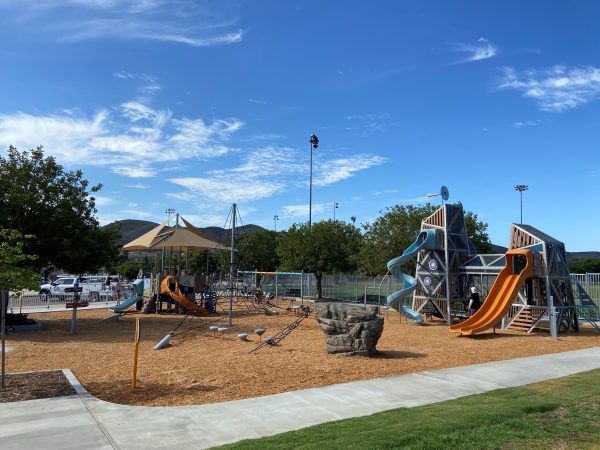 8 ADA Parking Stalls
5 Baseball Fields (Reservable; 3 fields lighted from sunset to 10pm)
17 BBQ Grills
270 Bleacher Seating
8 Bleachers
1 Gymnasium (1 basketball court; 2 volleyball courts)
1 Kitchens (1 stove (8 burners, 2 ovens), sink, refrigerator)
3 Meeting Rooms (One room seats 40; one seats 20 Mail hall/gym seats 250 (private), seats 300 (organization))
1 Outdoor Basketball Courts (Court is lighted from sunset to 10pm)
286 Parking Stalls
2 Picnic Structures (#1 "Sail" – 9 tables, 125 capacity; #2 "Trellis" – 12 tables, 140 capacity)
17 Picnic Tables
2 Playground
2 Restrooms
3 Soccer Fields (Reservable; fields lighted from sunset to 10pm)
2 Tennis Courts (Courts lighted from sunset to 10pm)
2 Volleyball Courts (Courts lighted from sunset to 10pm)