402 Calle del Prado, Newbury Park, CA 91320
Description
The hillside 26-acre playfield park opened to the public in January 2013. The park includes lighted softball fields with soccer overlays, tennis and basketball courts, a playground, and ample parking for our friends visiting Sycamore School.
Park Information
The park is open daily from 7:00am – 10:00pm. For further information, call 805-495-6471 or email parks@crpd.org.
Field Conditions or call the Field Conditions Line at 805-381-1236.
Reservations
To reserve a playfield, contact the Reservations Office at 805-495-6471 or at reservations@crpd.org.  For a complete listing of reservable athletic fields, including amenities and reservation forms, go to Athletic Field Reservations. 
Use of the picnic areas, basketball, pickleball, and tennis courts is on a first-come, first-served basis.
Amenities
Map of Amenities (PDF)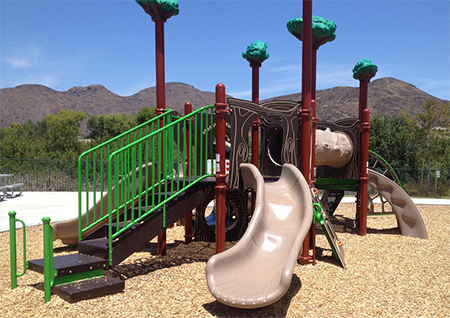 4 ADA Parking Stalls
3 BBQ Grills (First come/first served)
432 Bleacher Seating (First come/first served)
6 Bleachers
1 Outdoor Basketball Courts (Court is lighted from sunset to 10:00pm.)
132 Parking Stalls
2 Pickleball (First come/first served lighted, from sunset to 10pm)
7 Picnic Tables (First come/first served)
1 Playground
1 Recreational Walking Path (0.60 mile distance)
3 Restrooms
3 Soccer Fields (Reservable – Lighted sunset to 10:00pm)
3 Softball Fields (Lighted sunset to 10:00pm)
1 Tennis Courts (Court is lighted from sunset to 10:00pm. First come/first served)