1300 East Janss Road, Thousand Oaks, CA 91362
Description
Improved over time with tremendous support from dedicated volunteers, non-profit organizations, and service clubs. The 55-acre property was originally acquired in 1972 and the first soccer fields were completed in 1976.  This is the largest sports turf area in the Conejo Valley, and it is home to AYSO Region 9 and Conejo Valley Days. Since 2005, it has one of the finest full-size baseball fields in the County of Ventura. Covered parking solar panels were installed in 2013. The property is located behind the Conejo Valley Unified School District's administrative offices.
Park Information
The park is open daily from 7:00am to 10:00pm.  Athletic games must be completed and field lights turned off by 8:30pm.  For general park questions, call 805-495-6471 or email parks@crpd.org. 
Field Conditions or call the Field Conditions Line at 805-381-1236
Reservations
To reserve a playfield, contact the Reservations Office at 805-495-6471 or at reservations@crpd.org.  For a complete listing of reservable athletic fields, including amenities and reservation forms, go to Athletic Field Reservations.  
Amenities
Map of Amenities (PDF)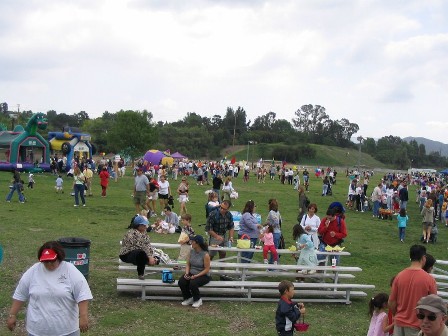 13 ADA Parking Stalls (4 by North restroom; four by ballfield; 5 near concession building)
1 Baseball Fields (Reservable; no lights)
1 Meeting Room
606 Parking Stalls
1 Recreational Walking Path (0.65 mile distance)
12 Restrooms (Unisex)
12 Soccer Fields (Reservable; 10 fields are lighted from sunset to 10pm)