1175 Hendrix Avenue, Thousand Oaks, CA 91360
Description
Most of the oak-studded 38.4-acre property for Conejo Community Park, also known as "Dover and Hendrix Park," was transferred from Ventura County to the Conejo Recreation and Park District in 1972.  This rolling hillside park has reservable facilities, picnic areas, and a ballfield. It is home to the nature-loving "Outdoor Unit" of the Recreation Division and it is host to the popular Summer Concerts in the Park series held in the sloped lawn amphitheater. The community center building was completed in 1965 and was constructed with the help of volunteers. Conejo Community Center will have an entirely different look in the coming years. Master planning, with input from the community, is underway for a redesign of the center building and park improvements. Visit https://www.crpd.org/cccproject for updates.
Park Information
October-March 7:00am – 6:00pm
April-September 7:00am – 8:00pm
For general park information, call 805-495-6471 or email parks@crpd.org.
Field Conditions or call the Field Conditions Line at 805-381-1236.
Community Center Information
Monday-Friday 9:00am – 7:00pm
Saturday-Sunday 12:00pm – 6:00pm
For more information, including programs, or to reserve a meeting room, contact the Conejo Community Center.
Reservations
Amenities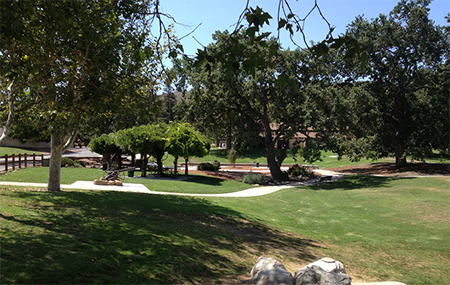 10 ADA Parking Stalls
1 Backstops (First come/first served)
1 Baseball Fields (Reservable; no lights)
6 BBQ Grills (Plus 2 group use)
100 Bleacher Seating (First come/first served)
2 Bleachers (First come/first served)
Fitness Trail (.4 mi)
1 Kitchens (2 stoves w/ovens, 3 sinks, refrigerator/freezer)
3 Meeting Rooms (Contact Conejo Center for information)
199 Parking Stalls
4 Picnic Structures
57 Picnic Tables (2 with prep tables – FC/FS)
1 Playground
1 Recreational Walking Path (0.40 mile distance)
2 Restrooms (One inside center; one outside)