190 Reino Road, Newbury Park, CA 91320
Description
Located at the corner of Reino and Borchard Roads next to Newbury Park High School, the 29-acre Borchard Community Park was acquired in 1969.  Park amenities, a community center, and maintenance shop were completed in 1972.  The nicely shaded community park has reservable community rooms, picnic areas, fields, and tennis & volleyball courts.  With many amenities under lights, the park is available for day and evening use.  A District-wide Skatepark was added in 2001, providing children of all ages with access to the challenges of skateboarding. In 2013, solar carports were installed. In 2018, fitness equipment was added.
---
Park Information
The park is open daily from 7:00am – 10:00pm.  For general park questions, call 805-495-6471 or email parks@crpd.org. 
Use of the outdoor volleyball, basketball, and tennis courts is on a first come/first served basis.
Field Conditions or call the Field Conditions Line at 805-381-1236.
---
Community Center Information
Monday-Friday 9:00am – 10:00pm
Saturday-Sunday 12noon – 6:00pm
For more information, including programs, indoor courts, open gym schedule, skatepark, or to reserve a meeting room, contact the Borchard Community Center.
---
Reservations
---
Amenities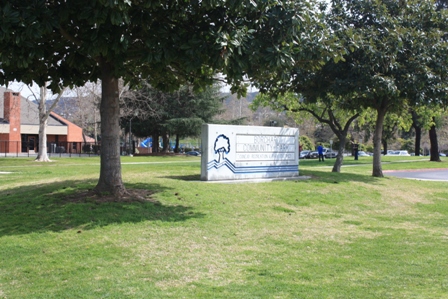 13 ADA Parking Stalls
10 BBQ Grills (First come/first served)
420 Bleacher Seating (First come/first served)
7 Bleachers (First come/first served)
1 Bocci Courts (First come/first served)
1 Gymnasium ((1) Basketball; (1) Volleyball)
3 Horseshoe Pits (First come/first served)
1 Kitchens (Stove, oven, 3 sinks, refrigerator/freezer)
2 Meeting Rooms (Contact Borchard Center for information)
1 Outdoor Basketball Courts (FC/FS – Court lighted from sunset to 10pm)
317 Parking Stalls
3 Picnic Structures (Reservable)
Picnic Tables (Area A – seats 20 Area B – seats 30 Area C – seats 100)
2 Playground
2 Restrooms (Plus one in community center)
1 Skatepark
1 Soccer Fields (Lighted from sunset to 10pm)
3 Softball Fields (Lighted from sunset to 10pm)
2 Stages (One indoor/one outdoor amphitheatre)
2 Stages (One indoor/one outdoor amphitheatre)
4 Tennis Courts (Courts lighted from sunset to 10pm First come/first served)
2 Volleyball Courts (First come/first served)