190 Reino Road, Newbury Park, CA 91320
Description
Located at the corner of Reino and Borchard Roads, next to Newbury Park High School, the 29-acre Borchard Community Center was acquired in 1969. Park amenities, a community center, and maintenance shop were completed in 1972. The nicely shaded community park has reservable community rooms, picnic areas, fields, and courts. With many amenities under lights, the park is available for day and night use. A districtwide skate park was added in 2001. Covered parking solar panels were installed in 2013. In 2018, two exercise fitness stations were added. 
Park Information
The park is open daily from 7:00am – 10:00pm.  For general park questions, call 805-495-6471 or email parks@crpd.org. 
Use of the outdoor volleyball, basketball, and tennis courts is on a first come/first served basis.
Field Conditions or call the Field Conditions Line at 805-381-1236.
Community Center Information
Monday-Friday 9:00am – 10:00pm
Saturday-Sunday 12noon – 6:00pm
For more information, including programs, indoor courts, open gym schedule, skatepark, or to reserve a meeting room, contact the Borchard Community Center.
Reservations
Amenities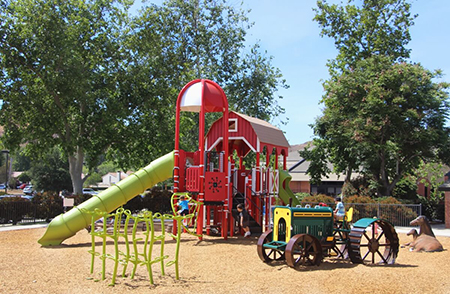 13 ADA Parking Stalls
1 AEDs (Gym)
10 BBQ Grills (First come/first served)
420 Bleacher Seating (First come/first served)
7 Bleachers (First come/first served)
1 Bocci Courts (First come/first served)
2 Fitness Stations
1 Gymnasium ((1) Basketball; (1) Volleyball)
3 Horseshoe Pits (First come/first served)
1 Kitchens (Stove, oven, 3 sinks, refrigerator/freezer)
2 Labyrinth
2 Meeting Rooms (Contact Borchard Center for information)
1 Outdoor Basketball Courts (FC/FS – Court lighted from sunset to 10pm)
317 Parking Stalls
2 Picnic Structures (Reservable)
32 Picnic Tables (Area A – seats 20 Area B – seats 30 Area C – seats 100)
2 Playground
2 Restrooms (Plus one in community center)
1 Skatepark
1 Soccer Fields (Lighted from sunset to 10pm)
3 Softball Fields (Lighted from sunset to 10pm)
1 Stage Room (Holds 40)
2 Stages (One indoor/one outdoor amphitheatre)
4 Tennis Courts (Courts lighted from sunset to 10pm First come/first served)
2 Volleyball Courts (First come/first served)